We are always grateful when our guests tell us that they had a wonderful stay at Ballynoe House and that they also take the trouble to provide us with a review through our FreetoBook reservation and booking system. After what has been a difficult year for everyone, we are delighted that our first guests after lockdown have enjoyed themselves and have provided us with morale-boosting comments. It is highly appreciated. We also feel a measure of success is when our guests already rebook while they are with us or as soon as they get home!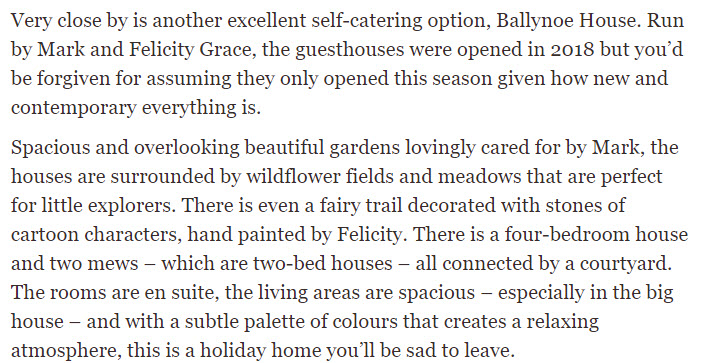 Irish Farmer's Journal – Feature on West Cork Staycations (July 2021)
Review received during 2021 will be posted here.
Traveller from Mullingar, IE      Date of stay 4 Jun 2021
Location             Cleanliness        Facilities             Service / Staff
5 – Excellent       5 – Excellent       5 – Excellent       5 – Excellent
Would you recommend this property to other travellers?             Yes
"The standard of the accommodation was very high. The house is located in a beautiful location and the grounds around the house are ideal for young children. Our children enjoyed the woodland walk. The hosts were exceptional, they went above and beyond to make sure we enjoyed our stay."
Traveller from Harolds Cross, IE      Date of stay 11 Jun 2021
Location             Cleanliness        Facilities             Service / Staff
5 – Excellent       5 – Excellent       5 – Excellent       5 – Excellent
Would you recommend this property to other travellers?             Yes
"Lovely location, very peaceful; house finished to a high standard and was spotlessly clean. Mark & Felicity were very welcoming and helpful. We had a lovely stay."
Traveller from Newcastle, IE      Date of stay 19 Jun 2021
Location             Cleanliness        Facilities             Service / Staff
5 – Excellent       5 – Excellent       5 – Excellent       5 – Excellent
Would you recommend this property to other travellers?             Yes
"Ballynoe was beyond our expectations. We had a fantastic holiday and would definitely come back. The grounds are beautiful with stunning views and our house was spotless. Everything was supplied and we felt so comfortable, safe and relaxed. Ballynoe house is definitely what it says it is, a luxury accommodation in beautiful West Cork. Inchydoney beach is definitely worth a visit. Food wise, we had lovely lunches in the Emmet hotel and Oak Fire Pizza is one of the best pizzas around."
Traveller from Cabinteely, IE      Date of stay 27 Jun 2021
Location             Cleanliness        Facilities             Service / Staff
5 – Excellent       5 – Excellent       5 – Excellent       5 – Excellent
Would you recommend this property to other travellers?             Yes
"Excellent many thanks."
Traveller from Terenure, IE      Date of stay 27 Jun 2021
Location             Cleanliness        Facilities             Service / Staff
5 – Excellent       5 – Excellent       5 – Excellent       5 – Excellent
Would you recommend this property to other travellers?             Yes
"This place is a treasure and we have already re booked for later in the summer. Mark and Felicity were great to deal with and the facilities in the mews house made it home from home. This was our first holiday with our baby and she took her first proper steps in the mews house so this stay will always be memorable for us. Red Strand beach is lovely, it's walkable even with a buggy and a treat of a coffee and crepe on the beach is very rewarding. Fish tacos at Long Strand beach (15 min drive) are amazing."
Traveller from Buttevant, IE      Date of stay 03 Jul 2021
Location             Cleanliness        Facilities             Service / Staff
5 – Excellent       5 – Excellent       5 – Excellent       5 – Excellent
Would you recommend this property to other travellers?             Yes
"Loved our stay, every detail of the accommodation has been carefully thought out. The gardens are very relaxing, and the children had a lovely safe space to play outside while we could relax. And the washing machine is the best I've ever come across!!"