Let's Talk About Kevin
Kevin is a young jackdaw rescued by as a baby by one of Ballynoe House's neighbours. He is very used to people and can be encountered in our local neighboured. He is recognised by the green ring on his leg and can appear in close-proximity quite unexpectedly.
He particularly enjoys cat food, peanuts and grapes, and recently his range has included Ballynoe House. The arrival of a large group of new guests seemed to encourage him to increase his range and investigate. In early Summer 2019, he was a frequent visitor, often tapping the kitchen window of The Barn House around breakfast time and the windows of the main house whenever he was peckish! His visits were very welcome and delighted all the guests in our self-catering accommodation who have had the pleasure of interacting with him.
From a very inauspicious start, having either been thrown out of or fallen from a nest, he was found cold and lifeless but stirred when moved. Since then he gone from strength to strength and as he has adopted the ways of other jackdaws in the vicinity has become a less frequent visitor.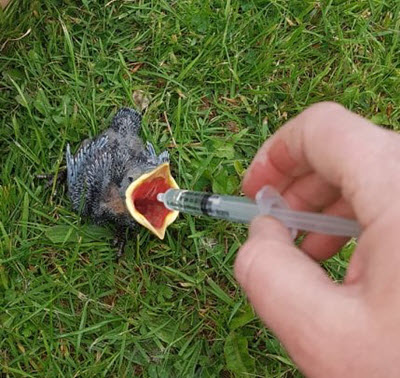 Raising Kevin the JackdawTwo Photos c/o Kevin's "mom" – Olive Ohara Lynn